2008 - Smee and Sayr explore Highgate cemetary
Wednesday, 15 July 2009 18:21 | Written by Administrator
Highgate cemetary

, gothic mausoleums tastefully overgrown, backdrop to many a Hammer Horror film and resting place of the Great and Good.
Simon and Sarah gird up their loins and venture forth.
Main gate to Highgate cemetery.
Impressive enrtance to the Egyptian Avenue ... the head office of RentaCrypt. The BBC has this to say about it:
"The Victorian fascination with discoveries of ancient Egyptian treasures pervades Highgate Cemetery. Nowhere is this more evident than at the exquisite 'Egyptian Avenue'.

Following a charming shaded woodland path, nothing prepares you for the avenue entrance, with its obelisk and lotus-flower column. It could be straight out of an Indiana Jones movie. No temple of doom here though. Walk like an Egyptian through a line of splendid family vaults."
The simple headstone that marks the grave of Douglas Adams (what is the significance of the pebbles on top I wonder?)...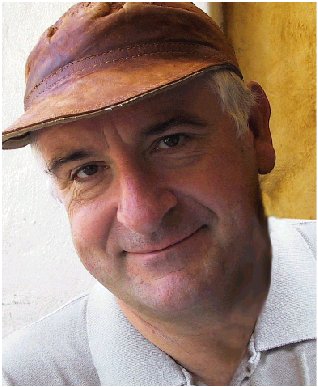 ...author of "The Hitchhiker's Guide to the Galaxy", to name but a few.
Right next to Douglas Adams, is a marker for Eddie Rosen.
Headstone pointing out the Bleedin' Obvious
The delightfully designed marker of Anthony Shaffer, the author of Sleuth.
...and another .... why would anyone need TWO headstones?
Simon next to possibly the best known memorial stone in Highgate cemetary - that of Karl Marx.
Smee cuddles up to Karl, contemplating the master's words: "The development of Modern Industry, therefore, cuts from under its feet the very foundation on which the bourgeoisie produces and appropriates products. What the bourgeoisie therefore produces, above all, are its own grave-diggers." Karl baby, what can I say? Close - but no cigar!
Some information on Richard "Stoney" Smith.
George Eliot, aka Mary Ann Cross used a male pen name, she said, to ensure that her works were taken seriously.... the J.K.Rowling of her day.
More details of Meriel and Rafe.
Attractive headstone
Here rests the sculptor Michael Kenny
'''George Henry Kingsley''' (1827-1892), traveller and author; brother of Charles Kingsley and of Henry Kingsley; educated at King's College school. London, and Edinburgh University; M.D. Edinburgh, 1846; graduated also at Paris, 1845; his activity during the outbreak of cholera in England in 1848 commemorated by bis brother Charles in the character of Tom Thurnall in Two Years Ago; adopting foreign travel as bis method of treatment of individual patients, explored most of the countries of the world; his most successful book, South Sea Bubbles by the Earl and the Doctor appeared, 1872; edited from a manuscript at Bridgewater House, Francis Thy tine'sAnimadversions uppon the Annotacions and Corrections of some Imperfections of Impressiones of Chaucer's Workes 1865.
Squadron Leader E. B. King died 30th August 1940 flying a Hurricane as part of 151 squadron during the Battle of Britain having just assisted in covering the evacuation at Dunkirk and flying missions over Northern France.

See this link
Also: Eric Bruce KING

S R King
Details of Mr Foyle here.
The grave of William Friese Greene, the inventor of cinematography. Details here.
... and more information here.
John Bashall, cotton baron (?) http://www.stcatherines.co.uk/generalhtml/aboutus.htm
The tomb of Carl Rosa, founder of an opera company of the same name.
George Wombwell's tomb in Highgate Cemetery, London.
The statue is of Nero, his pet lion.
George Wombwell was born at Wendon Lofts, Essex in 1777. He moved to London in 1800 and opened a cordwainer's shop in Soho's Old Compton Street. However, his career was soon to take a dramatic change in direction. It all started when two large boa constrictors were discovered on a ship in the London Docks. He bought the two serpents for 70 guineas and started to exhibit them in the local hostelries. They must have proved immensely popular with the drinking classes because within 3 weeks Wombwell had recouped his investment. He realised that there was real money to be made from showing exotic animals to the public and started to purchase a variety of beasts, mainly from ships returning to London from all around the world. More details here.
Sleeping angel, completely stoned.
The tomb of Thomas Sayers, a bare-knuckle fighter born in the Pimlico slums of Brighton. He was the first boxer to be declared World Heavyweight Champion. He died aged just 39.
Angel feeling a bit cross
War memorial
The BBC has this to say about Julius Beer: "The jewel in Highgate's crown is revealed on reaching the Cemetery's highest point, the Mausoleum of Julius Beer.

Born into poverty in Frankfurt, Beer was determined to make a fortune. He dealt on the London Stock Exchange and became proprietor of 'The Observer'. However, being Jewish, a foreigner and having earned his wealth by commercial success rather than inheritance, Beer always felt ostracised by Victorian high society.

His response was this mausoleum, built by Italian craftsmen and costing £5000 then, £2 to £3 million in today's terms. At 1000ft above sea level, the mausoleum lords it over the rest of Highgate's residents."
Mr Beer's door!
Now if this is not a fairy path then I don't know what is.
Last Updated (Saturday, 16 March 2013 09:53)